On very short notice, and with very little organization, other than hearing about it on the radio, or online, tea partiers across the nation gathered at their IRS offices to protest the targeted  abusive treatment conservatives have received from what increasingly appears to have operated as branch of Obama's thug regime.
One of the bigger protests was in Cincinnati, Ground Zero for the IRS scandal. According to attendees on Twitter, the crowd swelled to around 500.
Via @TanaWeingartner: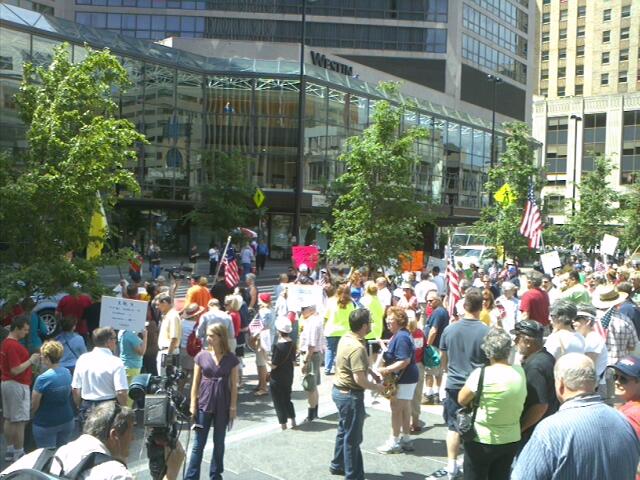 Here's a video of the Cincinnati protest, via Ushanka. 
Via Instapundit, this sizable crowd protested the IRS office in Atlanta.
And another one from Louisville:
Via Charlie Spierling, DC Examiner: Washington DC:
More from the #STL #IRS protest @gatewaypundit twitter.com/LElizaB/status…

— LEBD (@LElizaB) May 21, 2013
Gateway Pundit: Whoa!! ARMED DHS GUARDS Meet Tea Party Protesters Outside IRS Rally in St. Louis
I snapped this one myself at the IRS office in Kansas City:
Here are some of the signs from the KC protest:
See The Washington Examiner, Michelle Malkin and Twitchy for more pix.
MORE:
While tea partiers protested, the Regime plotted and schemed to get out of the mess they created for themselves.
Ace of Spades:  Spotted: Ezra Klein, Other JournoList Juiceboxers Seen Heading Over to the White House for a Private Briefing
Which means she'll be about as forthcoming as Jay Carney is at the average WH  press briefing. Who could she be protecting, I wonder?
Oh. I should mention that Lerner did bad things during the Clinton administration when she was at the FEC, too. I think we can assume the woman will not be praying or engaging in any prayerful activities ahead of  the hearing, tomorrow.
Oh boy, really?? Holy Moly! Senator Enzi at Hearing: IRS Is Asking Christian Churches for Membership Lists (Video)
On the Benghazi scandal front, there's this: Report: More Benghazi Whistleblowers To Emerge Shortly With Explosive Allegations